BOOKS
*
GREETING CARDS
*
PAINTINGS




"Gifts for others and ourselves to help us
along the journeys
to hope, healing
and happiness."

Announcements


New Book of Poems


by Susan Florence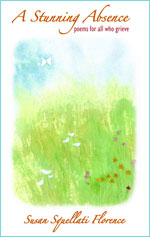 "I am struck by the quiet beauty of these poems. How they question and accept; and gain, incrementally, an understanding of loss. This is a collection worth sitting with." ~Justen Ahren, author of A Strange Catechism
to order a copy please
GO TO BOOK ON
AMAZON.COM
Susan is a Featured Poet for the online
journal called: Quill and Parchment.

Click here

Susan has been selected as the Featured Artist for Quill and Parchment, an online journal for writers, poets, readers and painters. To check this out
Click Here
New Baby Book


by Susan Florence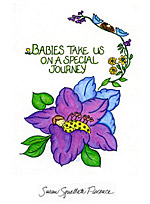 Give The Sweetest Baby
Gift Book A New Parent
Will Ever Receive.
"A timeless tale of love
a new baby brings"
Order the BOOK ON
AMAZON.COM
or download now:

ITunes or Amazon